INSPIRING, EDIFYING, OPEN, TRANSPARENT, TOUCHING THAT IS WHAT YOU HEAR WHEN E-SPEAKS


E. Claudette Freeman does not hide from her personal experience of pain, heartache, grief, depression, poor choices, being called a failure and foolish by loved ones or unfortunate events including multiple medical diagnoses and more. Instead she has embraced opportunity after opportunity to share presentations that are birthed out of understanding, compassion, love of people, love of self, persevering through tears, using valley experiences for victorious understanding and living and creating perpetually. Freeman, who famed Playwright/Poet and Author Ntozake Shange called a consummate storyteller, weaves her ability to tell an engaging story, with inspiration, Biblical encouragement and life experienced and learned into powerhouse presentations for groups, ministries and other organizations.

A journalist, author, publisher, student of Christian counseling and a Certified Life Coach Practitioner, Freeman pours all of her training into lectures, sermonic messages and workshops that will edify, inspire, help in personal definition and defining self and purpose.

~~~~~~~~~~~~~~~~~~~~~
"I have hired Claudette several times to facilitate workshops in my home. As such, she held an empowerment session which was specifically targeted for women. Her ability to utilize mental exercises to provoke self-examination and action made the evening a great success. These women were family and close friends of mine and I wanted to create an evening of igniting self-worth. Claudette created a great session wherein the women relaxed, interacted, and of course had a lot of "ah-ah moments". Claudette provided essential information; presented interactive mental exercises; created an atmosphere of exchange not only with her, but between each person in the room. There is an energy that can only be experienced when she facilitates or presents to any size audience. Emily Claudette Freeman is a God ordained force of nature and any organization or individual that is blessed to cross paths with her is blessed indeed."

Sincerely,
Brenda Jackson, Author/Minister


---
WORKSHOP, RETREAT, GIRLS' NIGHT IN AND
LECTURE SELECTIONS INCLUDE:

Detox Your Life: Your Legacy Depends on It

The Morning Hour: Journaling to Experience the New Day

If God is the Author, Then Who Are You

Are the Characters in Your Life Moving You Out of the Main Position

While You Are in the Valley, Use What Flourishes There

Dead Women Fighting: Your Battle Needs a New Strategy

Your Vision Will Tarry: So Hold On In spite of the Hard Road

You May Be Here, but Where Are You Designed to Be

Mashed Potatoes and Collard Greens: Process, Possession and Purpose

Additional and customized lectures/workshops available depending on your corporate, ministry, women's or community group needs. Feel free to email us at:

adminservices@eclaudetteliterary.com

, for more information.

The sessions are wonderful tools for women's and youth groups, community programs that deal with addiction, domestic violence, major health issues, life after incarceration and other serious issues.

These sessions are also great tools for business and corporate settings. What a non-invasive and invigorating way to help employees deal with personal and business mission statements, issues affecting work performance and overall life management.

The sessions are wonderful partnering offerings for spas, holistic health centers, bookstores and other businesses where self-help or life improvement tools are widely sought. Sessions are available for intimate in-home or office setting, religious conferences/special events, women's and youth gatherings of any size.

We have been featured at:



Brenda L. Jackson, Inc.

Sisters in the Spirit

Sisters Take Charge Health Conference

The Nubian Sistahood

East Point Public Library

Modern Zen Empowerment Store
Dania Beach Library

Morning Inspirations Call

New Jerusalem Missionary Baptist Church

Robin McCray Ministries

Success Mountain Empowerment Institute

Prayer and Prophetic Calling Spiritual Retreat

And other conferences, ministry meetings and women's support groups.



Emily Claudette Freeman would love to be part of your club or organization's event. To get the ball rolling, complete this handy form:


Powered by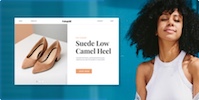 Create your own unique website with customizable templates.