Stephanie Outten, Author of IS THIS THE WAY TO JOY

​

"Hassle free writing insight, coaching and editing is what E. Claudette Freeman provides. She is a genius when it comes to eliminating what I call "worry writing." She allows the writer to do just that, write. As writers we shouldn't have to worry about editing and with Ms. Freeman I didn't have to. She masterfully edited my manuscript without changing my style of writing, thereby, enhancing my points, enhancing my substance and enhancing my voice in written form. I do not hesitate to say to anyone looking for a master of editing, look no further - Ms. Freeman is who you need. She's what the literary world needs and it will soon come to that realization."
Craig N. Stafford, Author
ThinkHappy: Nine Thought Paths to Happiness
www.morelifelab.com
---
---
Carol Lynne Watson, Author of THE JOURNEY TO PEACE
---
"I met Claudette Freeman at a book fair in Fort Lauderdale, Florida, a few years ago. I was immediately impressed with her communication skills, creativity, personality, and knowledge about book publishing and editing. I knew then that eventually I would want to work with her. Claudette edited two of my manuscripts: FIVE DAYS OF DARKNESS (paranormal suspense); and the revised edition of one of my earlier works, PATH TO TRUTH: A SPIRITUAL MEMOIR. She did an outstanding job with FIVE DAYS, offering constructive changes and criticism that enhanced the story. Her probing questions while editing PATH, allowed me to further delve into the truths that were revealed to me. Would I hire her again? Most definitely! I feel confident in her ability to get the job done right in a timely manner. I am grateful to have her on my team."
JJ MichaelSecrets RevealedFive Days of Darkness and otherswww.jjmichael.com
---
---
Simone Kelly, Author of LIKE A FLY ON THE WALL
---
"Claudette made my first experience working with an editor a great one! Not only did she review my novel from a technical aspect, but she provided me with valuable feedback from a book reader's perspective. Overall, her edits challenged me to strengthen certain areas of the story without compromising my style of writing. She was reliable and finished the work as promised. I highly recommend Claudette for your editing needs and l look forward to working with her on future projects."

Alicia Hill JonesWhen Two Became Onewww.aliciahilljones.com

---

"I have had the pleasure of knowing and working with E. Claudette Freeman since March of 2012. Her skills and experience make her an excellent candidate for anyone looking for literary coaching and/or editing services. Ms. Freeman is dependable, reliable, hardworking, and honest; even when she knows her honesty is stretching you and aggravating you as a writer. Ms. Freeman has shown dedication to my writing ability, and her skills have been exemplary. Being a new author, I felt like I was on a roller coaster since writing my first book. I was on the verge of quitting after several road blocks, but it was Ms. Freeman's devotion and patience that motivated me and kept me from giving up. She was a true asset to my first book, and without her I don't think I would be fulfilling my dreams. With her editing and coaching techniques, I know I have progressed as a writer. Ms. Freeman is tough, but it is her tough love that I admire. Ms. Freeman would be a tremendous asset to writers and I highly recommend her to anyone without reservation."

La'Shawn Hewlett-Wilson Forbidden Fruitwww.bittersweetpublications.com

---
---
"E. Claudette Freeman has edited two novels for me, Blue Roses and Rendezvous with Danger. I appreciate the assistance Claudette provided with both my works, especially Blue Roses, which was my first romantic suspense. I struggled with providing more description to pull readers into some of the scenes and Claudette gave some helpful tips to get me through that struggle. And the good turnaround time with each round of edits (three rounds total) not only kept me on schedule, but Claudette was very patient. Thanks to E. Claudette Freeman, I survived the editing process and I'm proud of the finished product. Many thanks!"
Sharon CooperBlue RosesRendezvous with Danger and otherswww.sharoncooper.net
---
---
Powered by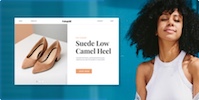 Create your own unique website with customizable templates.