PRECIOUS REDEMPTION: Sheltered Deliverance Revisited
SKU:
PRECIOUS REDEMPTION: SHELTERED DELIVERANCE REVISITED takes the big church drama of the OWN TV drama, Greenleaf, to a whole new demonic and cult-like level. Years of nightmares, a crazy parishioner and a woman's curiosity opens Pandora's Box from hell in this suspenseful work. The spiritual and psychological mind games enrapture, and in some instances chills you to the core. The novel, again, showcases Freeman's solid storytelling skills. Precious Redemption is the springboard for a highly-anticipated web series.
Powered by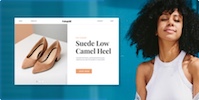 Create your own unique website with customizable templates.