If I Write, It Can Heal
SKU:
Literary Midwife E. Claudette Freeman's latest work IF I WRITE IT, IT CAN HEAL is a cross between an intimate dinner conversation with a lifelong friend and 22 (# of chapters) sessions on the couch of a world-renowned therapist. Written in a comfortable tone, each chapter gingerly coaches you through the self-examination process. The humor is therapeutic and the revelations foster introspection. Buy it. Write It. And, be healed!

Tymira Williams Mack, MPA; Author, Editor, Grants Manager


Powered by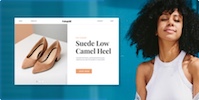 Create your own unique website with customizable templates.