Fabulous You: Power Nuggets for the Moment
SKU:
Between the obstacles, challenges, negativity and perplexities of daily living we can forget one very important fact - we are fearfully and wonderfully made. In the second journal, from empowering author E. Claudette Freeman, you will find powerful, inspiring and rousing nuggets to remind you that in spite of what it looks like and in spite of what you feel like - you are FABULOUS!
Powered by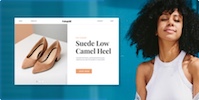 Create your own unique website with customizable templates.